The Top 7 Gifts for Men This 2018 Holiday Season
This holiday season we're all going to be inundated with ads to buy every possible contraption and luxury you can imagine. In a sea of options, it's hard to shuffle through the product listings and find that perfect gift for the guys in your life. Many of these gifts are awesome for both men and women, but for the sake of simplicity, I'll speak in general terms as though we're shopping for a gift for that special guy in your life.
Let's get started with this list of my favorite best gifts for men this 2018 holiday season.
Best Tech Gift of 2018
AIRPODS by APPLE
Price: $159.00
This Gift Says: "I like you a lot, and I hope that you realize these headphones are kind of expensive so don't lose them."
This year the perfect tech gift for any guy comes in a very small package. The Apple AirPods are the perfect combination of stylish, high-tech, and reasonably priced. It's priced at $159 on Apple.com The high, yet not too high, price range makes these a splurge that many wouldn't buy for themselves but would love to receive as a gift. I would personally LOVE to a pair of these. I've also heard from many friends that these little earbuds have tons of neat features like pausing any media you're listening too immediately when you take them off, and the mic on these is impressive when being used for crisp clear phone calls. The one caveat is that I would only buy these for an iPhone user. They would be a less awesome gift to an Android phone user. That being said any guy would love to have these! Buy Them Here
Best Practical Gift of 2018 (Best gift for Dad)
DOLLAR SHAVE CLUB GIFT CARD OR GIFT SET
Price: $35 - $125
This Gift Says: "I had no idea what to get you so I spent a fair amount of money buying you something that you'll be thanking me for well into 2019."
Every guy needs a good shave. The Dollar Shave Club makes great razors at an even better cost, but don't let the low cost fool you. I've used them for nearly 5 years, and I love the high quality of the razors. I've tried the executive model down to the modest two blade unit. I think both are fantastic. It's also really nice having razors delivered to your front door so you never run out. You can select the dollar amount you want to gift to the person so they can sign up for the service themselves. I got this for my dad last year, and he loved it! I did have to help him sign up online, but he didn't have to do anything after that. They've made it easy so you now buy an E-Gift card sent via email or send a physical gift set of razors and shaving cream! Check out Subscription Gift Options Here.
Best Wallet Gift of 2018
MINIMALIST WALLET by DANGO
Price: $69
This Gift Says: "Trade in your old fat wallet for a slim modern wallet made from aerospace aluminum, and yes it's a bottle opener too!"
This wallet is very cool and functional. It's a fresh design that looks a little different from the popular Ridge wallet we've seen for a few years now from other brands. This model is made with genuine leather that looks sleek and high quality. It's slim enough to fit in the front pocket and can hold up to 10 cards plus some cash comfortably. Guys don't always think about replacing their wallets, but this gift is a perfect nudge to get your guy to throw out his old worn out wallet along with the last 12 months of ATM receipts. This wallet can also act as a bottle opener which will be surprisingly useful, and it has RFID scanner protection so your cards are safe from devious card thieves. Check Out the Design Here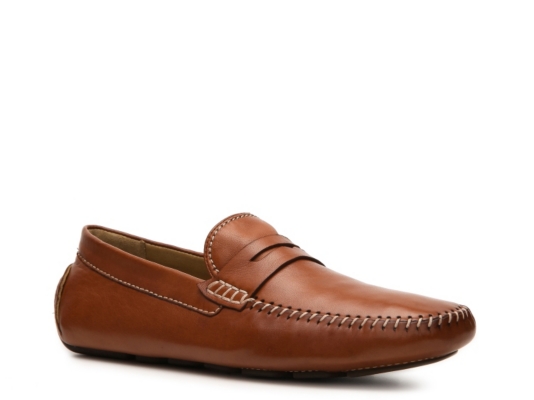 Best Men's Driving Moccasins Gift of 2018
ROBERT ZUR HUGO PENNY LOAFER
Price: $149.99
This Gift Says: "I like your style, but these penny loafers will take you to the next level of GQ."
These driving moccasins are so soft they feel like house slippers. They run fairly true to size in my case, and I loved mine so much that I wore them out in about 1 year then easily had them repaired by a local cobbler. This gift will give your guy something comfy yet classy to wear to work or around town on a Saturday afternoon. These mocs come in cognac brown or black, and they will easily be a favorite gift for the handcrafted stitching and unbelievably soft and comfy fit. Buy a Pair Here
Best Desk Organization Gift of 2018
GATHER SYSTEM
Price: $149 for the starter set
This Gift Says: "You have excellent taste and style, and I think your desk would look even tidier with this uniquely designed organizer!"
Organizing one's desk is hard to get excited about, but somehow the Gather System by UGMONK makes it a thing of beauty. The Gather System is a modular organizer that can be used on a desk or entryway for keys, change, cell phones, or really anything thanks to the versatile design. The thing I love about this gift is that it is not something that you'll see in a big box store or even on most online shopping sites. Its designer is a true master of aesthetics in industrial design. You will be surprised at how much your recipient will love this gift. It's a beautiful, practical conversation piece wrapped into a desk (or anything) organizer. Check It Out Here
Best Reading Gift of 2018
WALL ST JOURNAL SUBSCRIPTION
Price: $117 for a 6 Month Subscription
This Gift Says: "I think you're an intelligent person who would enjoy the tactile experience of getting the top world news and financial newspaper delivered to your front door every day."
The Wall St Journal is essential reading for both world news and financial reporting. The feel of a crisp morning newspaper is something many millennials have rarely experienced. This is one of those gifts that will be with the person for months if not all year depending on the term you sign them up for. I recommend this gift for guys who enjoy news, politics, and finance. It will be an unexpected return to the past that lasts for months to come. Visit the Wall St Journal Gift Page Here
Best Calendar Planner of 2018
THE AVID INVESTOR PLANNER
Price: $24.99
This Gift Says: "You're the kind of person who is organized and plans for financial success throughout the year."
This list couldn't be complete without the Avid Investor Planner. The Avid Investor 2019 Planner is the perfect add-on gift to any of the ideas in this list. This planner is designed in a way that will make guys fall in love with it. It fits in your pocket, it helps you to become a better investor, track your habits, and keep a traditional planner schedule all in one stylish handy planner. The fact that research shows writing things down improves a person's memory and decision making skills is another great reason to consider a stylish calendar planner this holiday season. As more and more people return to using traditional print daily planners, this gift will make sure that your guy is ahead of the curve in time management and financial prowess. Get Yours Here
A perfectly thought out gift means so much. It shows that you not only cared to spend money on the special guy in your life, but it also shows that you spent time and effort hunting for the right gift for them. I hope this list of the best gifts for men of 2018 has been helpful in your search. If you have any ideas for other great gifts for men post them below!